Although buying earrings online is extremely fun (there are just so many styles to choose from!), I know that it can be difficult at times to visualise just how big (or small) some of these earrings are. It's especially true when you're new to shopping online and you're not accustomed to seeing just pictures and a handful of measurements. Even the product pictures can be misleading at times, especially when it's a close up of the earrings as they can look much bigger than they actually are.
Centimeter (cm) to Inches (in.) Conversion Chart
So, in order to help you picture just how big the earrings are before you order them, I've decided to put together this earring size guide and a handy cm to inches conversion chart for your convenience.
All of our earring sizes are listed in cm as we use the metric system in Australia. The chart below shows the conversion into inches.
| | |
| --- | --- |
| Centimeters (CM) | Inches (in.) |
| 1.0 | 0.39 |
| 2.0 | 0.79 |
| 3.0 | 1.18 |
| 4.0 | 1.57 |
| 5.0 | 1.97 |
| 6.0 | 2.36 |
| 7.0 | 2.76 |
| 8.0 | 3.15 |
While conventional studs used to be small and dainty, stud earrings have really come a long way and have evolved so much in today's modern world. Stud earrings can now be as large as 4cm in diameter, making them statement studs in my opinion.
The thing about studs is you can easily wear and forget them (guilty!) although it's usually recommended to take them off before showering or when you go for a swim. Anyway, here is a picture to help you better visualise stud earring sizes. My personal preference is a stud size of about 2cm as it's big enough to show the design of the stud but not too heavy to wear.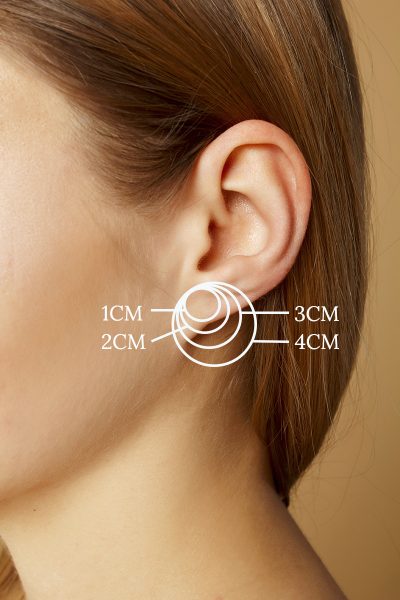 When it comes to drop or dangle earrings, the sky is the limit. Dangle earrings can go for as long as 17cm – 20cm and who knows, this might even change in the near future.
In our case though, our drop earrings or dangle earrings have drops that usually don't go past 6cm. My personal take is, a drop length of 6cm is probably the longest I'd wear without actually feeling the weight of the earrings. Anything over 6cm may just be a tad uncomfortable to wear while 3cm – 5cm is probably the sweet spot. Having said that though, if the earring charms are made from lightweight materials then wearing long drops may just be bearable. Anyway, to each their own.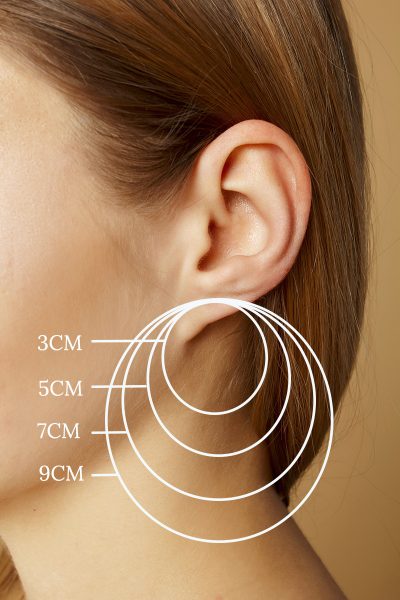 Please note that the image above does take into account the length of the earring hooks as well (if used), to give you a better indication of the length of the earrings.